Reiki is a gentle but powerful hands-on healing method which treats the whole person; emotions, mind, body and spirit.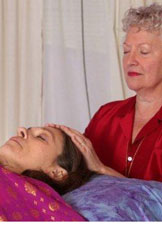 Reiki (pronounced ray-key) Rei can be translated as 'Universal or Spiritually Guided Life Force", and Ki, the "Energy or Life Force Present" or "God Consciousness".
A Reiki Treatment re-establishes a healthy energy flow throughout the system, which in turn can enhance and accelerate the body's innate healing ability. Reiki can strengthen the nervous system, relieve stress, discomfort or pain, help promotes healing of wounds, help resolve behavioural issues and support physical or emotional traumas.
While Reiki often allows you to experience the sense of immediate relaxation and well-being, benefits from this treatment are subtly manifested over time continuing to improve your overall health.

My experiences have shown that this gentle, yet empowering treatment, will enhance the life of anyone regardless of their age or condition. I have seen Reiki calm and quiet babies, challenged children, people suffering from chronic or terminal illnesses, making the transition from life.

Time and time again, I have seen the amazing effect that a Reiki Treatment can have on an animal; healing unexpected wounds or surgery, healing emotional traumas or relocation anxiety.  As well, it helps in healing the spirit, enabling a peaceful transition.  MM*, Reiki Master
The following Reiki Principles offer a simple guideline for daily living.
Just for today, I will live the attitude of gratitude
Just for today, I will not worry
Just for today, I will not anger
Just for today, I will do my work honesty
Just for today, I will show love and respect for every living thing
Just for today, I will honour my parents, teachers and elders
A Reiki Master and Certified Reiki Teacher, Mary McCandless is an active member of the CRA (Canadian Reiki Association).
The first thing I noticed was the peaceful, calmness that came over me during the Reiki Treatment and the warmth that came from Mary's hands.  Chronic pain that I had for too many years to mention, seemed to vanish and has not been back.  BG

I tried Reiki for the first time a few years ago, while dealing with a variety of emotional and physical issues. After only an hour, I felt completely rested and yet physically alert and calm, as though a large weight had been lifted.  RD
Absent Healing or Distance Healing can be sent from Master Healer, Mary McCandless, to the one who is in need of healing on a physical, emotional and spiritual level. A person need not physically be present.
Absent Healing or Distance Healing sessions can be for yourself or other people, your own pets/animals or those belonging to others. You can help past, present or future events relating to you or other people.
Reiki Treatment:  (90 minutes)
Absent/Distant Healing
If you are interested in Reiki I Certification or Reiki II Certification or becoming a Reiki Master, please contact Mary McCandless, Master Healer in Cobourg (Northumberland County), 905-377-8585.  Reiki I and Reiki II Workshops are held throughout the year.