The "Life Between Lives" is a sacred journey of the soul into a timeless place in a placeless time.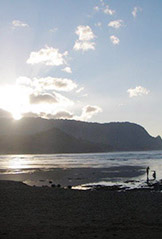 The Tibetans call it "Bardo", a "time period" between our incarnations on Earth.
Through hypnosis, you travel into another dimension encountering your spirit guides or angels, your "soul groups", discovering that you are never really alone. Your path is Divinely Guided and you are always going in the best direction.
Along the way, you may find yourself in the Library where a record of your comings and goings are recorded from the past into the future.  This is also known as the Akashic Records.  You may venture to a place where you choose your body, your parents, even special events that will happen in your life in order for you to learn specific things or lessons. This is often referred to as your "purpose" on Earth, enabling you to understand, "Who am I?", Why am I here?"
In Life Between Lives or Inter-Life, people often experience feelings of peace, joy, love, compassion and non-judgement. Some even report the feeling of "coming back home".
Another common experience reported is losing the fear of dying. From their experience, they recognize that they are an immortal soul and death actually brings them back home. This feeling often profoundly changes the way of living and seeing the world.
Traveling through the Gateway, you will meet your "Soul Council" or "Council of Elders", "Spirits of Light" that have attained a level of experience and wisdom that does not require them to physically reincarnate. It is here that your questions on your life quest are answered, enabling you to better understand your path and purpose in your current lifetime.
Life Between Lives should only be experienced under the guidance and direction of an NGH Certified Master Hypnotist, who has been Certified as a Life Between Lives/Inter-Life Facilitator.
Before a Life Between Lives/Inter-Life session, it is important to have previously experienced hypnosis and Past Life Regression with an NGH Certified Master Hypnotist.
Master Hypnotist, Mary McCandless, is an active member of the National Guild of Hypnotists.  She is also a Certified Past Life Regressionist and Life Between Lives Facilitator.
Mary McCandless is a Certified Instructor of Hypnosis through the NGH and teaches at the Cobourg Centre for Hypnosis & Natural Healing (Northumberland County).
Life Between Lives: 190+ minutes