Hope ~ Embrace All the Good That Awaits You MP3
Hope ~ Embrace All the Good That Awaits You MP3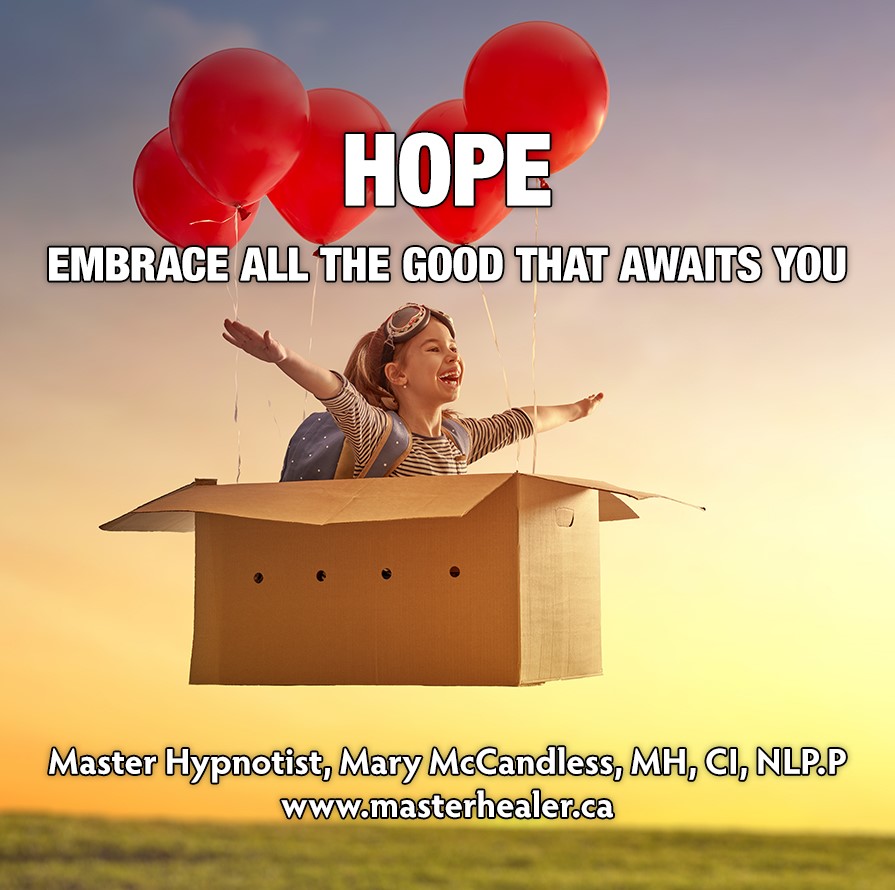 A one-time price of
$12.00
will be added to your order.
Who amongst us hasn't searched a patch of clover for the 'lucky one' with four leaves, only to press it into a book for safe keeping?  My sister has had that gift all her life.  In fact, one of the boys she taught in kindergarten still carries it in his wallet forty years later. 
Or, picked a dandelion puff to blow into the wind sending hundreds of wishes into the sky.  Or pulled each petal from a daisy, determining whether they were loved or not.  I think of all these things as HOPE.
This meditative self-hypnosis program, HOPE, is an excellent way to enable your subconscious mind to restore and regenerate your body, mind and spirit. 
Whether you are a Caregiver or someone who is recovering from an acute illness like surgery or the flu or a chronic illness like cancer, fibromyalgia or MS, this will help to quiet your conscious mind and connect with the ancient healing wisdom and knowledge deep within to boost your immune system and your body's ability to heal. 
What is hypnosis?  Hypnosis is a natural state of focused concentration and within this state the subconscious (inner mind) can be worked with directly to affect change at a very deep level. It is both safe and effective.  Within this relaxed, peaceful, meditative state, positive suggestions are introduced to the inner mind to create a new life story, literally changing habits, thoughts, feelings, perfections and how you behave, react and respond.
Simply sit quietly and listen to this guided meditation twice a day for 21 days or even as you are preparing for sleep. Gently, positively, effortlessly your life will change. 
All you need to do is listen…to change your life.
This audio program is not designed to diagnose or treat any medical condition.  Do not listen to this recording, if you have been diagnosed with epilepsy, dissociative disorder or have had recent heart surgery.  Do not listen to this, if you are driving or operating heavy machinery.
The warm and comforting voice of Master Hypnotist, Mary McCandless, will help you to begin to develop a whole new way of being, able to express yourself confidently while remaining peaceful, calm and in control.  You can do anything.
"HOPE is also an amazing woman, named Valerie Hawkins, who survived the ravages of cancer, again and again.  Her passion to help others who were experiencing this same loss of health and dignity was ever present.  As a lightworker, Val decided to study hypnosis with me to enable herself and others to continue to help and heal themselves, using the power of their subconscious or inner mind.  Connecting with their deep healing inner wisdom, enabling a sense of peacefulness and calm, optimism, confidence and most importantly HOPE, to prevail.
This recording captures the true essence of her positivity to live each day to the fullest, regardless.  I recorded it with her in mind this year, adding only those thoughts that would truly enhance her message of HOPE.  Believe.  Anything is possible." M*
Listen to a sample of the healing voice of Mary McCandless.
Mary McCandless is a Master Hypnotist and Certified Instructor of Hypnosis and an active member of the National Guild of Hypnotists.
To learn more about how hypnosis might help you, schedule a complimentary consultation or schedule an appointment. Questions are always welcome.
Taxes: Applicable taxes are included in the cost of Mp3 downloads.