Public Speaking ~ Release the Fear & Find Your Voice MP3
Public Speaking ~ Release the Fear & Find Your Voice MP3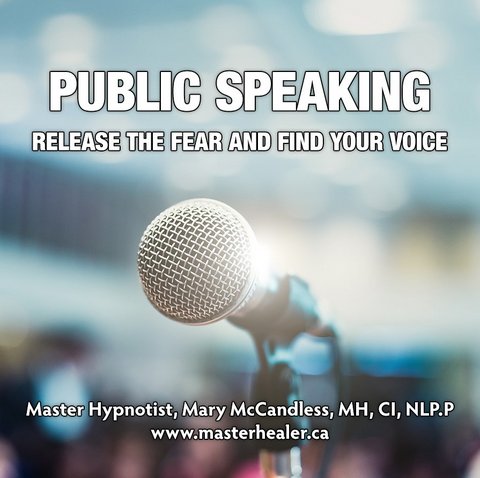 A one-time price of
$12.00
will be added to your order.
At some point in your life, you will be expected to stand up and be accounted for; to give a speech, whether it be in school, perhaps for a wedding, a business proposal, company meeting or an audition for the role of a lifetime. Hypnosis is an excellent way to teach or train your subconscious or inner mind to manage anxiety, release the fear of public speaking and find your voice.
What is hypnosis?
Hypnosis is a natural state of focused concentration and within this state the subconscious (inner mind) can be worked with directly to affect change at a very deep level. It is both safe and effective.

 

Within this relaxed peaceful, meditative state, positive suggestions are introduced to the inner mind to create a new life story, literally changing habits, thoughts, feelings, perfections and how you behave, react and respond.
This downloadable meditative self-hypnosis program to eliminate the fear of Public Speaking, will help to quiet those negative voices in your head and provide the three easy steps to experience complete confidence talking in public. 
It's just a habit…and habits can be changed.
You have an innate ability to do and say the right thing at the right time. Hypnosis will help you find the words.
Simply sit quietly and listen to this guided meditation twice a day for 21 days or even as you are preparing for sleep. Gently, positively, effortlessly your life will change. 
All you need to do is listen…to change your life.
This audio program is not designed to diagnose or treat any medical condition.  Do not listen to this, if you have been diagnosed with epilepsy, dissociative disorder or have had recent heart surgery.  Do not listen to this, if you are driving or operating heavy machinery.
The warm and comforting voice of Master Hypnotist, Mary McCandless, will help you to begin to develop a whole new way of being, able to express yourself confidently while remaining peaceful, calm and in control.  You can do anything.
Listen to a sample of the healing voice of Mary McCandless.
Mary McCandless is a Master Hypnotist and Certified Instructor of Hypnosis and an active member of the National Guild of Hypnotists.
To learn more about how hypnosis might help you, schedule a complimentary consultation or schedule an appointment. Questions are always welcome.
Taxes: Applicable taxes are included in the cost of Mp3 downloads.